SUSTAINABILITY EQUALS COMPETITIVENESS
Inoxveneta's corporate culture has traditionally shown a strong dedication to innovation: with a constant commitment to meeting the needs of its customers through the best available technologies, Inoxveneta has developed a production system based on sustainability principles and a long-term vision.
Inoxveneta's goal is to keep creating value and preserve – or better – increase its competitiveness. Consequently, sustainability and competitiveness are perceived as system concepts underlying this approach.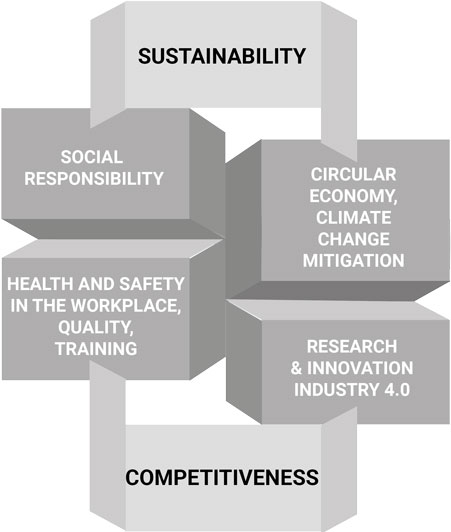 Stainless steel: a recyclable and eco-friendly resource
A key feature of steel is undoubtedly its extraordinary inherent "circularity". Steel is 100% recyclable, as it can be recycled over and over again without losing any of its original properties. Indeed, steel is durable, resistant and permanent. We firmly believe that stainless steel is the key component for a sustainable future: once it is produced, any further processing does not involve any type of pollutant emission or disposal and regeneration problems.
At the end of their lives, stainless steel products and equipment are separated and recovered to be included in the recycling process.
Stainless steel also allows to:
Minimize the use of primary energy
Save on non-renewable natural resources
Reduce waste
Participation with their own communities
The four seasons… On a 100 m long wall.
This is not the first time we have worked out projects with young people. A few years ago, for example, we worked with a college of design to develop a course that gives young people artistic freedom in processing steel using hydroforming technology. This resulted in a volume of really creative suggestions and inspirations.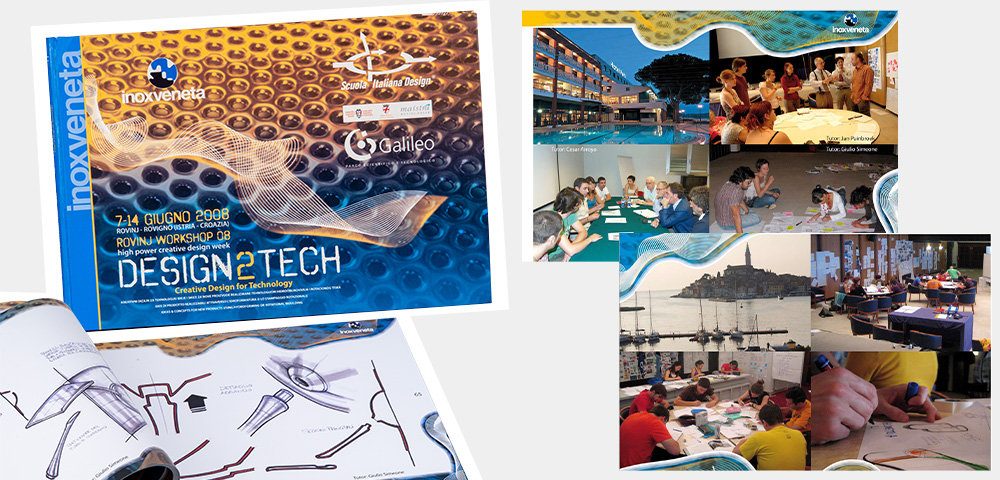 Ideas and creativity in a 150-page book tell the story of the 2008 workshop.
In 2020, after the maintenance work on an external wall of the Vittorio Veneto plant, we decided to involve some young people again in order to give them the opportunity to give free rein to their ideas and expressiveness on this "100 meters by 2". Together with the municipality of Vittorio Veneto and its "Progetto Giovani", whose various social activities include a street art programme, we decided to enliven a wall that would otherwise have remained a simple boundary wall. The inauguration took place on October 16th 2021.
Once again it becomes clear that one has to combine technical thinking with creative and humanistic thinking in order to create " the best". In this way incentives are created for ordinary citizens or companies – as in our case – to pursue innovative ideas.
There will be other opportunities to give young people the chance to draw their vision of the future and to communicate this vision to visitors to our industrial area, who often come from foreign countries. When you're constantly on the cutting edge of innovation, you can't forget to be part of a community. And as our customers know, the best projects come from collaboration.

Industry 4.0, energy savings, renewable sources
Another crucial aspect of our progress is our Industry 4.0 transformation process, with the introduction of new digital technologies and advanced automation systems for B2B processes, and electronic data management for the implementation of artificial intelligence systems.
On the roofs of Inoxveneta buildings in Vittorio Veneto two solar photovoltaic systems are operating with a total installed power of 650 kWp. In relation to the general weather conditions, on average a 20% of our yearly needs of electricity is supplied by these solar photovoltaic systems. The electricity produced by these systems means an yearly saving of CO₂ of more than 200.000 kilograms.
The two industrial buildings in Vittorio Veneto are both equipped with almost 800 LED lamps. The saving is allowed not only by LED lightening in comparison to the energy consumption of traditional neon lamps but also by the possibility of control of the LED lamps in relation to the intensity of solar irradiation. The use of these LED lamps in the production halls allows annual saving of 150.000 kWh with a reduction of CO2 production of nearly 80.000 kilos.

Solar inverter
We care for the environment, in so many ways
Since 2010 our environmental management system has been ISO 14001 certified.